Fabric Printing
If you are looking to order a metre or two for a personal project or a larger quantity for commercial enterprise, then talk to us.
You may want a few photos for a memory quilt, 2-3 metres for a bespoke dressmaking project, why not make your interior individual with some unique cushions, blinds or curtains.
Perhaps you need help with printed fabric for a business, we have helped lots of customers convert their designs in to embroidery or sewing kits and the advantage of digital printing is that there are no set up costs and you only pay for the fabric you print. Multiple designs can printed over a print run so you can print smaller quantities of more designs to expand your range at a minimum cost.
We have 2 direct to textile full colour digital printers and specialise in 100% natural fabrics
Our standard fabrics are;
* Panama which is great for chairs, bags and lampshades for example
* Quilting Cotton which is great for clothing and quilting for example
* Hopsack which is a heavy weight canvas good for interior design for example
* Warp Satin which is great for clothing and embroidery for example

All of the cottons, linens and pigment inks are OEKO TEX certified

We are able to print from 2 metres to over 2000 metres with multiple fabric designs on one print run for trade customer. Our low minimum order quantity of 10 metres per fabric, means our service is available to businesses of all levels.

For more information and a price list please contact Imogen at Imogen@craftyourselfsilly.com or on 0191 2960398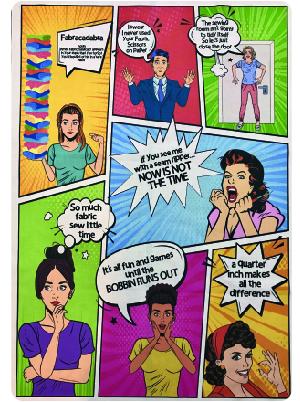 If you have designs or photos in mind we will ask you to send them to us, we will as high a resolution image as possible in order to achieve a good quality print around 300 dpi is ideal.
We can help you if you need some assistance creating your ideal design, we give each customer 15 minutes of design time free of charge. if your design is more detailed or requires further editing there can be an additional charge of £25 per half hour thereafter.
Please note as each piece of printing is carried out to customer specifications once production approvals are confirmed and this item will not be refundable.